Our Signature crafted shoes are amongst the world's very best. The combination of an original Goodyear welted sole alongside the artisan nature of a unique hand dyed leather calfskin is quite simply, world class.

Goodyear welting is the oldest, most labour intensive, and most durable of the three methods of construction. Since the early 17th century, the Goodyear Welting process has been associated with excellence and superior workmanship. All this involves a process with more than 120 handcrafted phases, from beginning to end.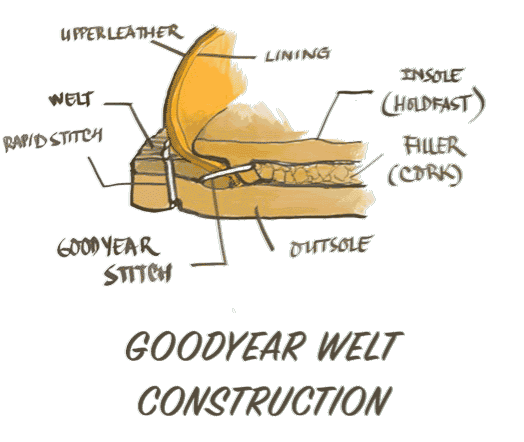 We only use the finest grade quality hides. We work with some of the finest tanneries from across the globe, choosing our leathers specifically based on quality, durability and natural characteristics. For us, the finest calfskin leathers are the ones that bear some imperfections because that is what truly brings the character and unique nature of your shoes to life.
We offer various ways of colouring leather. Our box calf is pre-dyed. This means that it arrives into our workshop with a base colour already applied at the tannery. It makes for a more consistent finish and smooth colouration throughout your shoes.
Our personal favourites are, of course, our hand dyed options which feature in our patina and burnishing options. For us, Hand Dyed is the pinnacle of artisan shoemaking. The leather arrives without colour, known as russet leather, and your shoes will literally be painted by hand using our dyes. Not anybody can dye shoes, too much dye or a lack of control and you can quickly spoil a beautifully constructed shoe. Too little and they'll be washed out. The beauty of hand dyed is imperfection; these shoes are a piece of art for your feet and you will see it the moment you open your box. No two pairs are ever exactly the same.
For us, we would always encourage Hand Dyed. It is why this story began...
Finally, our Exotic collection is something a little bit special. We only use licensed and ethically certified tanneries to produce hides from exotic skins. Most of the leathers come from around Africa and can be pre-dyed or and Dyed.