If you are a man under 45, of all the things that could kill you today, the most likely cause of death is suicide. How crazy is that? We are deeply committed to doing what we can to try to improve this statistic.
Bankruptcy. My greatest Achievement.
I never started this business to become a millionaire. The word I used to use when describing my ambition was that my intent was to create something 'extraordinary'. What I meant by that was a brand that did something; that stood for something. A brand I would be proud to have say I founded.
My lifetime has been topsy-turvy at best, when I consider my mental health. Flirtations with the idea of suicide were never far away from my immediate thoughts. I'm not proud of it; more so since becoming a father in 2013.
By Christmas 2021, I was closer to the edge than I've ever been before; driven there by my perceived failure to achieve my purpose with Hand Dyed Shoe Co. and the financial consequences that its collapse brought upon me and my family.
Thankfully, I survived. And whatsmore, I embarked upon my greatest life lesson in my 38-year-old life.
Speaking. Sharing. Listening. It saved my life,
Andy's Man Club is an organisation we are incredibly proud to support. Without the power of talking, I am not sure I'd have made it through my darkest moment in life. Every single week, on a Monday at 7pm, over 2,600 men from of all walks of life meet, rich, poor, employed, unemployed, to do only one thing... talk. It is completely free, and you can even expect a warm cuppa and a biscuit. The purpose of the meeting is simple; to show each and every member that they are not alone.
Hand Dyed Shoe Co. is about creativity and self expression. It is about creating a one-off product that you can enjoy, celebrating who you are as an individual. We cannot think of an organisation we would rather support than Andy's Man Club.
Groups spread right across the UK
Facilitators offering support to its guests
Men attending meetings every Monday, 7pm
How you can help us to help others
Whenever you choose to add one of the following items to your bag, you should be proud that you have helped to support hundreds of men simply by ordering shoes.

Adding a ARTsole to your shoe design will cost £69. We will donate 100% of the profit we make from this directly to Andy's Man Club.
To put this into context, by choosing an AMC ARTsole for your shoes, you are buying 661 digestive biscuits. That's 661 men, talking, because of you.

The Andy's Man Club Sneaker
Order a pair of our unique AMC sneaker and 50% of the profit will be donated to Andy's Man Club. This will make 754 warm brews for blokes attending Monday meetings.


We understand that not everybody can afford a pair of premium handmade shoes, but this campaign is not about us so if you would like to help the AMC x HDSCo cause, you can make a donation of any amount directly to Andy's Man Club. On behalf of everyone at HDSCo, Andy's Man Club and all of the 2,000+ men who attend meetings every week, we deeply thank you.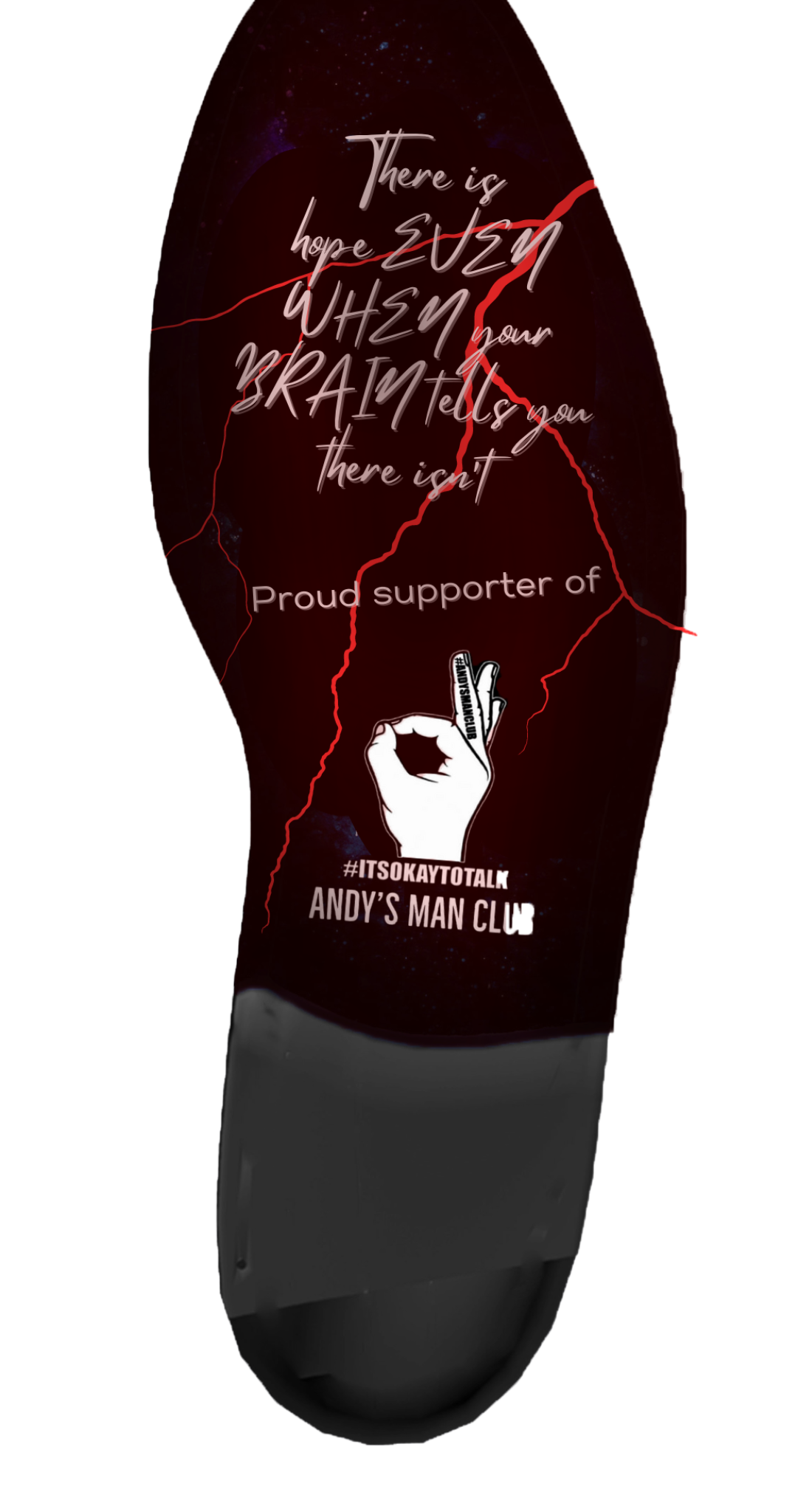 When you are designing your shoes using out 3D customisation tool, you will see within the sole options that there is an option to choose an 'ARTsole'.
Simply choose this option, add any of the Andy's Man Club soles and finalise your design.
The profits generated from your ARTsole purchase will be 100% donated to Andy's Man Club to help save a man's life.